Building Joomla Templates with Dreamweaver
NEW!
Dreamweaver CS5 has built-in support for building Joomla templates and other CMS templates!
Check it out here!
For those of you who want to build Joomla templates with Dreamweaver, there are several very cool tools available that automates much of the task of creating custom Joomla templates.
Build, develop, and manage a fully functioning, professional looking, and feature-rich website with the Joomla! CMS
Publisher: Packt Publishing / 476 pages available in print and e-book formats
Joomla 1.5 Template Toolbar
The Joomla 1.5 Template Toolbar by Antun Koncic is not specifically for Dreamweaver, but is a cross-platform toolbar designed to be a simple help utility for Joomla 1.5 template developers
Dreamweaver Joomla Template Kit
The Joomla 1.5 template Dreamweaver extension includes training videos and all the tools to help you create templates in Dreamweaver. Cost is $99 and is available at Media 65.
Building Joomla Templates with Artisteer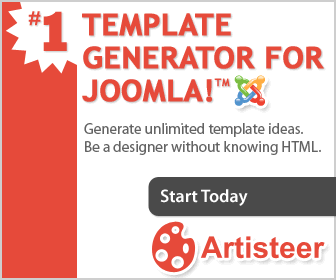 Artisteer
is totally not related to Dreamweaver, and in fact, the code generated by Artisteer can be a little difficult to edit in Dreamweaver. But if you're looking for a very fast way to create Joomla Templates, Artisteer is definitely worth a look.
I use Artisteer to create the free template packs available on the site, and for time-savings alone it is well worth the money. The code can get a little bloated with empty divs due to how Artisteer creates it's CSS layouts, but the interface is very well thought out and after a few minutes of using it, you'll quickly figure out how to customize all the appearance options.
Joomla on the Net
Here are some links to Joomla tutorials you may find useful.