Building Drupal Themes with Dreamweaver
NEW!
Dreamweaver CS5 has built-in support for building WordPress themes and other CMS templates!
Check it out here!
Building your own Drupal themes in Dreamweaver is made much easier with the following tools and extensions.
Create complex websites quickly and easily through the building blocks of Drupal 8, the most powerful version of Drupal yet.
Publisher: Packt Publishing / 330 pages available in print and e-book formats
Drupal API extension for Dreamweaver
Reduce typing by integrating the Drupal API into DW. It's a free extension by Drupal guru Chris Charlton. View info
Drupal 6 Theme Starter
Not a Dreamweaver extension, but rather an Adobe AIR application for getting started on a new Drupal theme. Again, from Chris Charlton. View info
Building Drupal Themes with Artisteer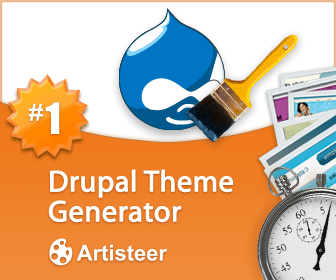 Artisteer
is not Dreamweaver-related, but is a fairly new product that allows complete beginners to create HTML templates, Joomla templates, Drupal themes and WordPress themes. The interface is really quite good, and it doesn't take very long to be able to create some very unique Drupal themes.
Artisteer's layouts are all CSS and they are well designed for cross-browser compatibility, albeit the code is a little fat. But if you are looking for a way to create a custom Drupal theme quickly without digging into the code, check out Artisteer. There are Home and Standard editions, priced at $49.95 and $129.95 respectively.
Drupal on the Net
Here are some links to Joomla tutorials you may find useful.